Last Updated on December 20, 2022 by Andrew Shih
Need to make money online fast?
Are you looking for legitimate side hustles to make money online fast, free, and from the comfort of your own home?
Maybe you need to make money online quickly because you are unemployed with no hiring insight or running out of money to pay bills. Or you are just looking to make extra money with a flexible side hustle that is worthy of your time and pays well. If so, this article is for you.
Disclaimer: Some of the links below are affiliate links, which means that if you choose to register or make a purchase, we may earn a commission. This commission comes at no additional cost to you. Please review the full affiliate disclaimer.
Challenges with most online side hustles
While there are plenty of side hustles that can be done online from home, many of the side hustles fall into two categories:
Pay too little. Many of the easy side jobs that can be done online do not pay well, such as making money with surveys, watching ads, or play games. Most of these opportunities are not even paying at minimum wage for the amount of time you invested.
Take too long. There are passive income opportunities such as blogging, podcast, YouTubers, Dropshipping, and create training courses on the other end of the spectrum. While these opportunities can be very lucrative and there are plenty of success stories, they require months or even years of hard work upfront with no guarantee of return on investment.
If you need to make money online fast, those side hustles are not suitable for you.
Side hustle selection criteria
Before diving into our top pick of these side hustles, let's define the selection criteria and what sets them apart from other side hustles.
Flexible schedule
100% online and can be done from home.
Easy. You do not need to learn new skills, and most people can do the job.
Completely free – This means no registration fee and completely free to get started. However, you will need to have a laptop, possibly with a headset. After all, you need to complete the tasks online.
Reasonable pay with at least $15/hour and even up to $100/hour.
Fast to start making money and get paid.
Legitimate companies that have a good reputation
#1 Help companies with research and studies
Respondent.io (affiliate) brings companies looking to improve their services together with respondents who have experience in the field. As a respondent, you can sign up for free, and you will need to complete the personal profile honestly so the system can match to surveys that you are most likely to qualify.
You will need to apply and be selected to participate in the research survey. The surveys can vary widely and generally takes about 45 to 75 minutes. Most of the survey can be done online, but there are also in-person surveys.
The companies pay well for the research studies if you are selected. If you have sales or support experience, you can earn about $100/hour. If you have other specialized skills such as software developers, enterprise software users, or marketers, you can get $150/hour or more. For senior executives and business owner research studies, the pay is even higher.
It's good money if you are invited and able to complete the study, and you can apply up to 3 studies within 24 hour period. While the Respondent.io pays well as a part-time side hustle, it is not likely this can be a full-time side hustle with a steady flow of studies to participate. If you are interested, you can learn more about how Respondent.io works.
#2 Participate in Focus Groups
Do you know your opinion can help you with making money? Companies want to know the opinions of their target customers and help them improve. These companies are willing to pay for your opinion just about any industry and topic, such as movies, politics, social media, finance, travel, car, electronics, games, etc.
Find Focus Groups and Focus Groups are websites where you can sign up for free and apply to join the focus group. There are both in-person and remote focus groups available. In order to participate in the focus group, you will need to apply and be accepted to join the group.
Many focus groups pay between $50 to $200 and typically last between 45 minutes up to 2 hours. This means if you are invited and able to complete the focus group successfully, you get paid about $100/hour for your participation.
While you cannot count on focus groups to replace your full-time income, it is easy and fun to connect with like-minded people, make extra money, and bring home hundreds of dollars or more a month.
#3 Become an App and Website Tester
If you can browse the internet or use apps on a mobile phone, you can make money as a website and app tester.
If you want to want to earn money while testing websites and apps, there are a few websites you can register, including Intellizoom, Utest, UserTesting, UserFeel, and TryMyUI.
If you are over 18 years old, you can start earning on IntelliZoom by providing feedback on the products and services you use today. To get started, you will need a computer, tablet, or mobile phone, download testing software and answering 3 profile questions during the registration.
There are primarily two types of studies – the think-out-loud video recording that pays $10 on average and answering surveys that pay $2. The studies are typically last 15 to 20 minutes. Once your result is approved by the company, generally, within 3 to 5 days, the payment is sent via PayPal within 21 days.
UTest has an impressive list of top brand customers such as Google, Facebook, MasterCard, McDonald, Tesla, Airbnb, Delta, Nike, and Starbucks. The platform welcomes testers worldwide and supports local currency conversions.
UTest has a rating system that encourages participation and quality work. Your rating is based on the internal algorithm and compared and curved with all of the active testers. Therefore, your rating will fluctuate, not only depending on you but also on the overall community. Gold is the highest rating and earns 10% more on a project.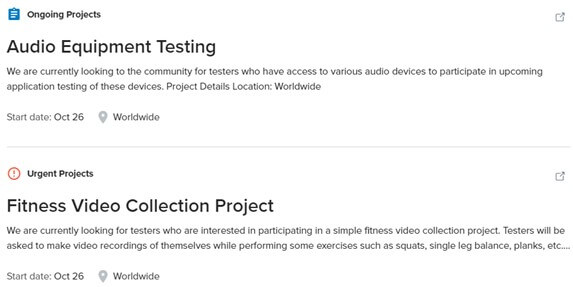 The test varies widely and has many options, depending on your device. It makes the test interesting because it is not just testing websites. The payout can range from tens up to hundreds of dollars. The payment is on the 15th and end of the month via PayPal or Payoneer.
If you are a casual tester that puts in a few hours a week, you can expect $200 – $400 a month. If you are active in the community and consistently put in about an 18-hour workweek, you can earn up to $1500. According to a Gold level tester on Quora, you may earn up to $3,000 a month once you reach the Gold level. You can learn more about uTest.
UserTesting works with plenty of best-in-class companies such as Adobe, Facebook, HomeDepot, WayFair. You must be at least 18 years old and have a Windows or Mac computer with a microphone and screen recording software. You will also need to pass a practice test first.
Test participants get paid $10 for each approved think-out-loud recording test. If you are willing to hop on a conference call at a scheduled date/time with the company conducting the study and have a live conversation, you can earn up to $120. You will receive payment via PayPal 7 days after your study has been reviewed and approved.
UserFeel has the same age and hardware requirements similar to the sites mentioned above. The participant also needs to pass the practice test to make sure you have the necessary equipment and knows how to record properly. The only test available is the think-out-loud test that pays $10 for 10 to 20 minutes of recording.
After your recording is reviewed and approved, you will receive the payment in about a week via PayPal or Amazon gift card.
TryMyUI and UserFeel have similar requirements, and only the think-out-loud test is available. The payout is $10 for about 20 minutes of test recording. The payment is sent via PayPal every Friday.
#4 Be a contributor for Appen
Appen offers freelancers flexible part-time jobs that can be done online from home. There are long-term projects and plenty of micro-tasks related to data entry, survey, editing, categorizing social media, transcribing, and other small jobs. The micro-tasks are ideal for the side hustler who have a full-time job but want to make extra money in spare time.
According to Indeed, speakers, social media specialists, analysts, and customer service representatives get paid around $10 to $18 per hour. A Data Collector can earn up to $30/hour.
#5 Sell service on Freelance platforms
Upwork and Fiverr are two of the most popular freelance platforms. It is free to register, and you can start selling your service after setting up your profile and gigs that describe your services.
As a freelancer, you have complete flexibility and be your own boss. You set the service you want to offer and the rate you will charge.
While it can be a slow start and not earn much initially, both platforms allow you to grow your client base and command a higher price as you move up the level and gain more business. There are plenty of professional freelancers that earn 6-figures on these platforms.
Here is my best tip for you to get the first project, which often is the hardest. When you bid for a project, you should read the project description carefully, customize your response, and answer all the questions.
To further set yourself apart, you are much more like to get the project If you can offer small value upfront and show that you have already put in thoughts about the project.
If you are interested in Upwork and Fiverr, you can learn more about getting started on Fiverr and Upwork.
#6 Teach English online
Are you a native English speaker with a bachelor's degree and willing to teach English to kids in China in a virtual classroom? If so, you can earn up to $25 an hour by working with Gogokid or VIPKid.
The onboarding process can take a bit longer because you will need to pass the interview and conduct a mock teaching session. While it is not required that you have teaching experience, it is certainly helpful. You will be working as an independent contractor, and the contract is renewable every 6 months.
You have a flexible schedule and are able to work as much or as little as you want, although a fixed schedule with more hours will help you earn more and have steadier students. Given that you are working with kids in China, you will need to keep the time zone difference in mind.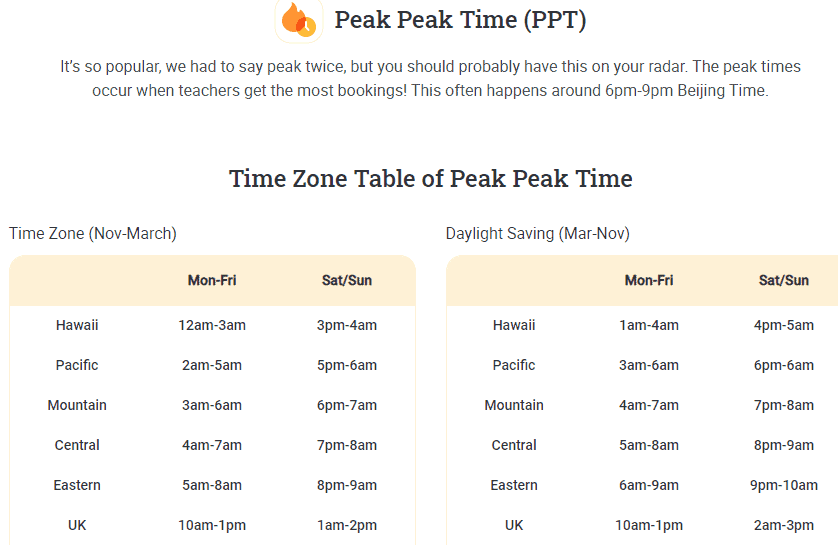 You will need a laptop with a built-in camera and a microphone or a headset to get started. Both service providers will provide support, training, and lesson plans to prepare for the class and help you succeed. In fact, VIPKid earned the accolade by the employee's choice of the best place to work in 2020 on Glassdoor. You can learn more about teaching English online opportunities.
#7 Be a virtual tutor
Are you fluent in a foreign language or do you have a subject that you are good at, willing to teach, and make some money?
Depending on the subject, you can earn between $25 and $80 an hour on Tutors.com. If you can teach SAT or test prep, the rate can start at $45/hr and up to $100/hr. The average rate for online tutoring is about $30/hr. Anyone with a high school diploma or a GED can register on Tutors.com
Available subjects include Business, Chemistry, Computers, Engineering, English, Fine Art, Health, Languages, Law, Liberal Arts, Math, Music, Performing Arts, Science, Social Studies, Sports, and Test Prep.
As a tutor, you can decide if you only want to teach virtually or if you or the student have to travel to meet up. You only pay the first time when Tutors.com sends you a customer lead that matches your specified requirement. Once you establish a working relationship with your client, you keep all the earnings.
Ready to make money online fast?
As you may realize, most of these side hustles do not provide steady income because you need to be accepted to participate, need to seek your own clients, or may require a bachelor's degree. However, many of those side hustle provides earning growth opportunities as you actively participate in the platform
If you want to make money online fast, you should register and explore all these side jobs you are interested in. It is the best way to ensure you have enough workload with a steadier income stream.
Depending on your situation, skillset, geographical location, and preference, you may succeed more on one platform than the other. You can get started with all these side jobs for free, and the only way to find out where you can earn the most money is to try.
There are also plenty of other side hustles that you can make money online from home too.
If you are looking to make money, you may be interested in saving money and stretching every dollar when you shop. You may want to learn about how to get the most cash back while shopping online. If you have a car and do not mind doing some local travel, there are plenty of opportunities to make money with your car.