Last Updated on January 9, 2023 by Andrew Shih
Honey review
If you love saving money but hate wasting time looking for promo codes, Honey has you covered. This money-saving app automatically finds discounts and coupons on your purchases.
In this Honey review, I will cover how Honey works, is Honey legit, and whether you should consider it.
Disclaimer: Some of the links below are affiliate links, which means that if you choose to register or make a purchase, we may earn a commission. This commission comes at no additional cost to you. Please review the full affiliate disclaimer.
What is Honey?
Honey is a mobile app and browser extension designed to help you save money when you shop online. Honey simply helps you become a smart shopper by doing all the heavy lifting of finding the best coupon, tracking price history, comparing prices, and alerting you when there is a better deal.
They work with 30,000+ retailers providing you with coupon codes for purchases, notification when items on your list drop, or finds lower prices on Amazon.
How did Honey begin?
Honey was started by a dad who was frustrated one night when ordering pizza for his kids. He knew there were coupons available, but not having one handy and having crabby kids around him, he rushed through the order without a coupon.
It was then the idea for Honey came to life. He wanted an automatic way to save money, knowing the coupons were out there.
Is Honey legit?
The short answer is Honey is a legit company. Honey has over 17 million users worldwide. It has found over 1 billion dollar savings for its member, and the company has paid over 8 million dollars in rewards.
Honey also scored 4.5 out of 5-star rating on Trustpilot.
Honey does not store your personal financial account information such as credit card or bank accounts.
How does Honey work?
Honey offers a mobile app and browser extensions to help online shoppers save money with several helpful features to help you save time and money, including:
Find and Apply the best coupon
Display price history
Best price detection on Amazon
Pricing monitoring and alert with Honey Droplist
Honey Gold reward program.
Get money-saving coupons at checkout
Honey finds the coupons and automatically applies them. No more searching Google aimlessly looking for promo codes. This is Honey's most popular feature.
See price histories
Not sure if it is the right time to buy? Honey can help. Honey tracks prices Amazon and other popular online retails for the last 30, 60, 90, or 120 days. You can use this information to decide if the price may drop based on historical pricing or if you want to purchase it now.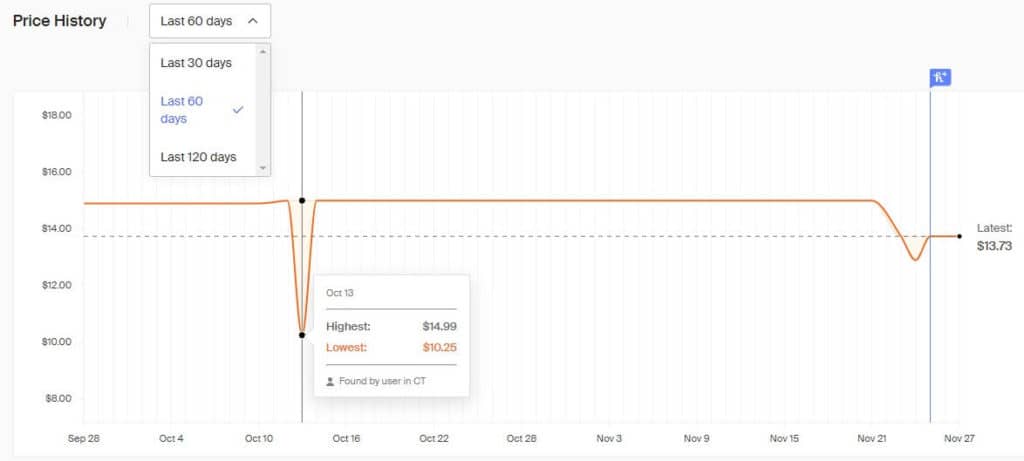 Best-price detection on Amazon
There are usually multiple merchants selling the same item on Amazon, and the default selection isn't always the cheapest. Honey automatically searches Amazon for lower prices from other sellers. It also takes Prime shipping and other shipping charges into consideration.
Honey Droplist
What is Honey Droplist?
Honey droplist is like a personal shopper that can monitors unlimited items on your watch list. You can set the target price for a period of 30, 60, 90, or up to 120 days, and Honey will notify you when the price dropped to your target price or the watch period is about to expire.
Droplist feature is not available in all stores, but available in major retail and online stores in North America such as Amazon, Walmart, BestBuy, and Target. Honey is looking to expand this feature internationally.
If the Honey Droplist is available at the store, the h icon will appear on the right edge of the browser.
How to use Honey Droplist?
Let's say I am shopping at Target for some new dishes. While I'm on the Target website, Honey pops up and tells me there were 2 coupons found. It automatically applies the highest value coupon to my order.
I can also add the item to my Honey Droplist if I decide it's too expensive right now. I can set the length of time I want Honey to watch the product and at what point I want it to notify me (5% off, 10% off, etc.).
You can set a Droplist for 30, 60, 90, or 120 days and discounts from 5% – 95%. Honey sends you an email when the price drops.
Use Honey Smart Droplist for Amazon watchlist
Do you still find droplist cumbersome? Then try Smart Droplist.
With Honey Smart Droplist, you simply have to enable it once, and it will automatically track items you saved for later or frequently viewed on Amazon and get notified once there is a lower price.
Honey on Amazon
If you are an Amazon shopper (like it or not), you will find Honey indispensable. Honey is the best money-saving app there is for Amazon. While it is very rare for Amazon to offer a site-wide coupon, Honey helps you save using all of the features mentioned above:
Best-price detection. Honey will search for the best price in the Amazon market price. The default isn't always the cheapest.
Price history. Honey shows you the item's price history to help you determine if it is a good time to buy.
Droplist. The droplist helps you monitor items and notify you when the price drop to your target price.
Honey Gold
What is Honey Gold?
Honey Gold is a cashback reward program when you shop from more than 4000 participating retailers. In addition to the coupon savings, you can also earn Honey Gold when you purchase from those merchants.
How to earn Honey Gold?
Earning Honey gold is easy. You simply shop online as you usually do, and Honey will display the Honey Gold activation button if the store participates in Honey Gold program. You are eligible for the Honey Gold reward once you make the purchase.
Instead of getting a fixed percentage of money back, the Honey Gold you will receive is a randomized amount. Depending on your luck, you may get more or less.
For example, if I shop at Staples, I may get anywhere from 1% to 4% of Honey Gold.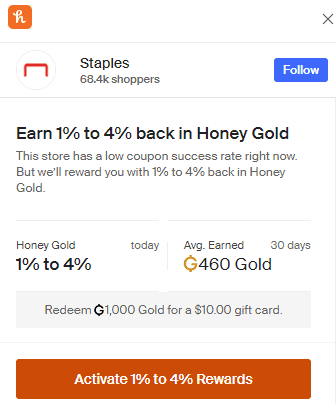 Keep in mind that Honey Gold is not available on all sites that Honey supports, such as Amazon.
From time to time, Honey will offer participating stores with a boost in Honey Gold reward.
How to redeem Honey Gold?
Once you have 1,000 gold points, you can redeem it for a $10 gift card.
You can redeem points in any increment above 1,000 points, and your points never expire – as long as your account is active.
If you live in USA, you can redeem gift cards from popular merchants such as Amazon, eBay, GAP, Google Play, Apple iTunes, Groupon, Home Depot, Lowe's, Macy's, Target, and Walmart.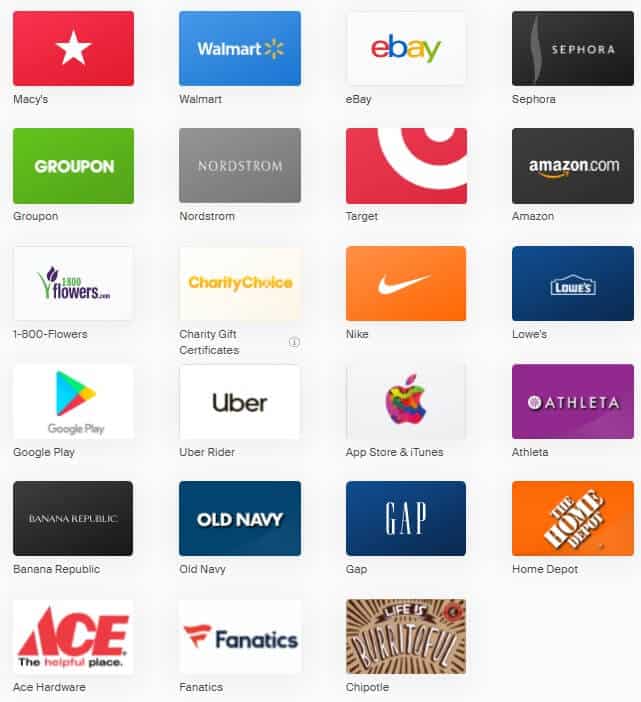 The Honey App
Honey also has an app available on iOS and Android. It works a little differently. Rather than shopping on the store's website, you shop through the Honey app. When you find what you want, Honey takes you to the store's website. Honey shows you available coupons you can apply. Check out via the app and you save money.
The Honey app has pros and cons. While it's great to shop on-the-go and know you're still getting coupons, the stores are much more limited than on the browser extension. If you're in a hurry and need to make a purchase it will do in a pinch, but you'll likely save more using the browser extension.
Is Honey Safe?
Any browser extension that tracks your transactions has risks, but overall, Honey is safe. You must agree to let Honey collect personal shopping data, so all consumers are aware of what it does. Honey also works with security firms to ensure its security.
Honey Referrals
Just like Honey earns money from retailers for your purchases, you can earn money from Honey by referring friends and family.
When you log into your Honey account, you'll see your Honey referral link. Share it via email or social media. If friends or family sign up using your link, you are connected. Once your referral makes a purchase that earns Honey Gold, you'll earn 500 Gold points equivalent to $5, usually 60 days after their purchase.
The referral link does not expire, but you are limited to earning 100,000 Honey Gold from friend referrals. In other words, you can earn up to $1000 for referring 200 friends.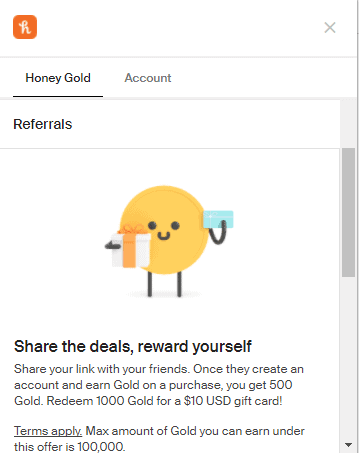 Honey Pros and Cons
There is a lot to like about Honey, but the app is not perfect either.
Honey Pros
Easy to use. Activate the saving is just a click of a button after installation.
Best coupon finder. Honey has the most impressive collection of coupons and automatically applies the best coupon it can find on the internet.
Save money and time. The default option on Amazon isn't always the cheapest. Price history is helpful too. Also, you do not need to waste time Google the promo code and trying one by one before checkout anymore.
Completely free app. You pay nothing with the possibility to get the best saving.
Supports many browser extensions. Honey supports Chrome, Firefox, Opera, Edge, and Safari.
Honey Cons
Coupons do not always work. Honey may list a large list of coupons on a site, but it is possible none of them work, giving you false hope.
Honey Gold reward is random. The reward you earn is a range and not a fixed percentage, so it is impossible to tell how much you can make.
Only redeem points with gift cards. Honey does not offer cash check or Paypal options.
Honey FAQ
A real Honey discount and saving experience
Here is one of my personal shopping experiences getting a Honey discount and using a Honey coupon when purchasing at Staples.
I spotted a quality office chair at Staples at a discount price. I decided to purchase 2 chairs.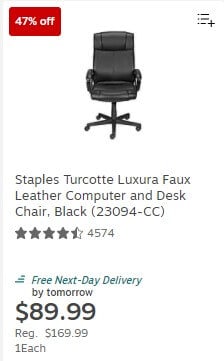 Saving with Honey Coupon
Honey was able to find the best coupon code and automatically applied the $20 coupon for online order of $100 or more.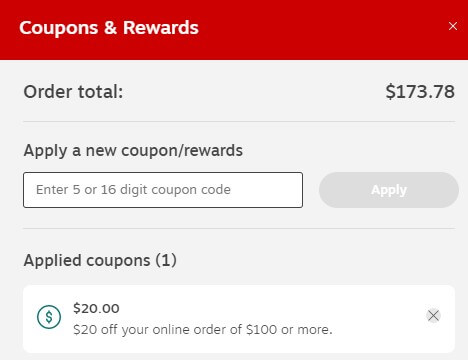 Earn Honey Reward
Because Staple is a Honey Gold merchant, I also earned 359 Honey Gold for the purchase.
In total, Honey helped me save $23.59 from this purchase with a $20 Honey Coupon Code and 359 Honey Gold Points.
Combine and earn extra cashback with Dosh
If you want even more savings, here is another trick. If you let Dosh track your credit card purchases, Dosh will also reward you when you buy from one of Dosh's participating merchants.

In this case, I was able to get an additional $5 back from Dosh. Find out how does Dosh work.
Honey Browser Extension Alternative
Rakuten and Swagbucks are other browser extensions that I would recommend. Instead of a random award, you get a fixed percentage cashback, and you can redeem for money via PayPal.
Keep in mind that these apps work mutually exclusive. In other words, you can only activate one of these apps, and you cannot double-dip the saving. To get the most cash back, I would install all these apps, decide which app shows the best saving, and activate the one with the best deal.
Is Honey Worth Getting?
If you shop online often and love saving money, yes Honey is worth getting. As you saw in my Honey review, there are many ways to save. If you are okay with a browser tracking your purchase transactions, it is worth the money you will save.
It is also worth it if you are an Amazon shopper. Most of us are guilty of buying the first product Amazon shows us that matches our search. Did you even know there were other 'buying options' on Amazon? Sometimes other sellers have better deals, even taking Prime into consideration.
Overall, Honey is a great way to save money and time. Check it out and see how much money Honey saves you with coupons and/or by earning gift cards for your purchases.
If you want to save more money with online shopping, make sure you check out these money-saving apps.
Honey Review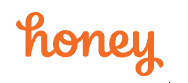 Features & Savings on Amazon
Summary
Honey is a useful money-saving app for online shoppers. Its strength is finding and applying the best coupons to help you save time and money. Honey is a great tool to help you shop and save on Amazon. Where Honey falls short is the random Honey reward and the lack of the option to redeem for cash.