Last Updated on January 9, 2023 by Andrew Shih
Dosh Review
If you're looking for the simplest way to earn extra cashback for credit card purchases online and in-store, it does not get any easier than using the Dosh app.
In this Dosh review, you will learn how does Dosh work, is Dosh legit, and how to get cashback using Dosh.
Disclaimer: Some of the links below are affiliate links, which means that if you choose to register or make a purchase, we may earn a commission. This commission comes at no additional cost to you. Please review the full affiliate disclaimer.
What is Dosh?
Dosh is a money-saving app that can keep track of your credit card spending and give you a percentage of cashback when you shop at participating stores. Many of these stores offer 3% to 5% money back, and some may offer up to 10% cashback.
How does Dosh work?
Earning cash back does not get any easier than Dosh. You simply set it and forget it.
After you install and create an account using the Dosh app, all you have to do is register the credit cards you will use for online and in-store purchases. You are done. Once you purchase with a merchant that is affiliated with Dosh, you will get cashback.
Is Dosh Safe?
I know it can be uneasy for people to provide credit card information for security and privacy reasons.
While you do enter your credit card information via the Dosh app, Dosh doesn't store any of your credit card or banking information. This information is stored with Braintree, a Paypal service where over 1 billion cards are stored using highly secure tokenization and vaulting systems.
Dosh also utilizes bank-level security with 256-bit encryption and Multi-Factor Authentication (MFA) to secure communication and account access. Lastly, Dosh is committed not to sell your data to businesses or third parties.
Is Dosh legit?
Dosh is a legitimate business and not a scam. Dosh is affiliated with over 10,000 merchants, including name brands such as Walmart, Staple, Disney+, Dunkin, GNC, PizzaHut, Instacart, and BP. Your credit card and bank information are stored safely.
How does Dosh pay you?
After you accumulate enough cashback and the balance is above $25, you can transfer the amount to your Paypal, Venmo, or bank account. You also have the option to donate the amount to a charity organization.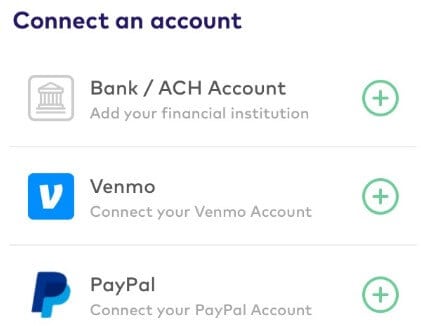 How does Dosh make money?
Dosh is an affiliate marketer and makes money when you make purchases from these merchants. Dosh split the commission with you as cashback into your Dosh account. Dosh also promotes merchants, brand awareness, and saving opportunities from the Dosh app to encourage you to spend more.
How to make money with Dosh?
There are several ways to make money with Dosh. You can earn cashback by spending money online or in-store, booking a hotel, or referring a friend.
Earn cash back online
If you are an avid online shopper, you will enjoy savings with the Dosh app. For example, you can earn 5% to 10% back from Walmart. When you shop at the participating online store, Dosh automatically deposits the cashback into your Dosh wallet. You will typically see the pending saving within the same day.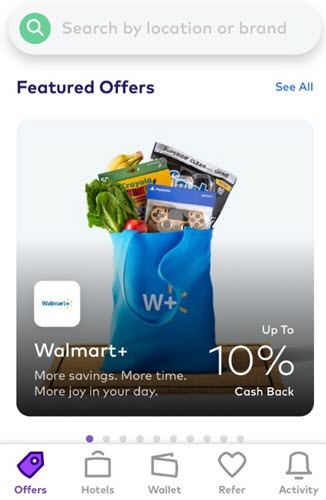 Earn cashback in-store
Do you need to gas for your car? How about $6/gallon saving from BP gas station? With 10 gallons, that's an extra 0.60 dollars back in your pocket each time you pump gas. Or grab a Dunkin' Donuts on the way with 4% savings.
All you have to do is swipe the credit card that you already registered with Dosh. You will see the cash start adding up in your Dosh wallet. You don't need to use any coupon or take a picture of the receipt.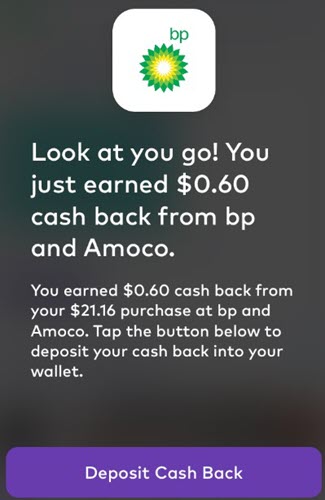 Book hotel with Dosh
Dosh is affiliated with over 600,000 hotels. Simply type in the travel location and date, and Dosh will find hotels with great savings. You can save up to 40% with Dosh hotel partners when you book through the Dosh app.
You will get your cash in the Dosh wallet about 30 days after you complete the stay. You can also earn an extra $15 for your first time booking a hotel through Dosh.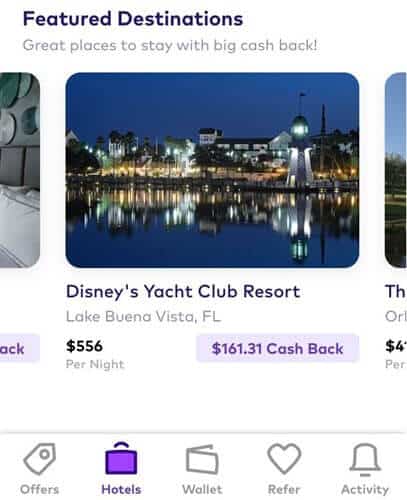 Dosh friend Referral
When you make a friend referral In your frame makes a qualified purchase you can earn one time $15 Dosh referral bonus. There is no limit to how many referrals you can make. All you have to do is share the referral link provided by Dosh.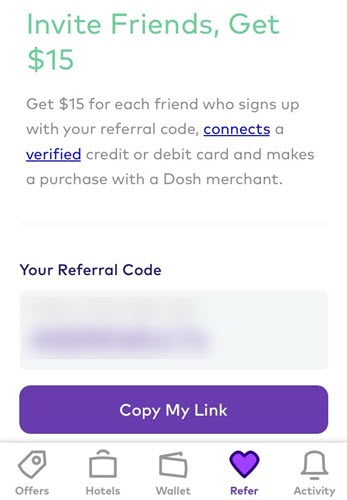 Link Credit Card with Dosh
You can link MasterCard, Visa, and American Express credit cards with Dosh. There is no limit to the number of credit cards you can connect; in fact, Dosh encourages you to link all the credit cards. However, you cannot link Discover, pre-paid, or department store cards.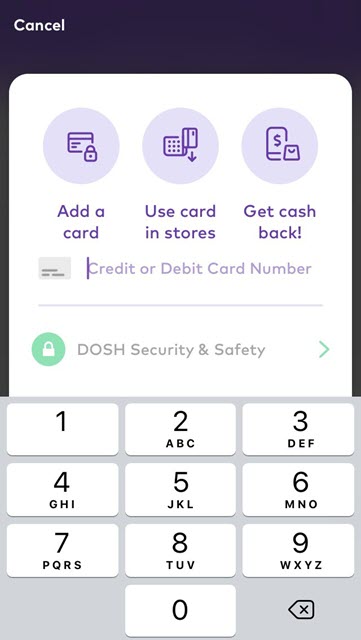 Link Debit Card with Dosh
You can also link your debit cards with the Dosh app. However, getting the cashback can be a bit tricky. You must swipe your debit card like a credit card (by not using your PIN #). If you enter the PIN#, the spending is directly deducted from your bank, and Dosh will not be able to track it.
If this happens, Dosh can still give you cashback, but you will need to submit the receipt within 30 days for store purchases or 90 days for online purchases.
Dosh Pros and Cons
While there is so much to like about Dosh, it is not without some shortcomings. Here are the most notable pros and cons of Dosh.
Pros
The simplest way to earn cashback
Getting cash back can't be easier than Dosh. All you have to do is install the Dosh app and enter your credit card information. That's it! Dosh will track your spending on credit cards and give you cashback when you shop from one of the Dosh affiliated merchants.
Double dip on savings
You can combine Dosh with any of your credit cards that most likely already offer reward programs. To maximize the saving, you can even triple-dip the cashback when you combine with other money-saving apps during the purchase in-store using Ibotta or online using Rakuten, Swagbucks, or Honey.
Endorsed by many merchants
There are over 10,000 places where you can earn cashback with Dosh, including many name brands. Most likely, you will find a few stores that you shop regularly and able to put extra money back in your pocket.
Cashback via Paypal
Getting cash back with Dosh is just as easy. Dosh pays you cash via Paypal – there no earning points or cashing out with gift cards.
Zero cost to use Dosh app
Similar to most money-saving apps, Dosh is completely free. If you are not using Dosh, you are missing out on the savings.
Cons
Lacking desktop interface
You must manage your account using the Dosh app on a mobile device. You will not be able to manage your account via the Dosh website.
$25 minimum to redeem reward
You will need to earn at least $25 to redeem cashback, which can be higher than other money-saving apps.
Only one way to earn cashback
Dosh is good at what it does by tracking credit card spending and give you cashback. Some other apps offer additional saving potentials, such as applying coupon code or earn points by answering surveys. You can learn about those money-saving apps.
Limited support capability
Dosh provides a support page with commonly asked questions. You can also submit a ticket with your question or issue, and you will get a response back via email. However, Dosh does not provide phone or online live chat support.
Dosh DOs and DONTs
DO
Install Dosh app to get extra savings
Install additional money-saving apps such as Rakuten, Honey, or Swagbucks to earn more cashback
Link all the credit cards that you use for online or in-store shopping so you do not miss out on the savings
Do read and understand the Dosh terms & conditions. For example, buying a gift card from an affiliate store does not qualify for cashback
DON'T
Don't buy extra things you do not need just to get "extra savings."
Don't be too obsessed with cashback. Cashback is great, but glue your eye on the Dosh app to make sure every penny gets deposit into your Dosh wallet.
Ready to Dosh?
While you will not get rich using Dosh, you can accumulate hundreds or even thousands of dollars worth of savings over time. You can invest the money or use the saving to make purchases that earn additional cashback.
Dosh is a money-saving app that I highly recommend. I use it personally, and it's satisfying to see extra savings back into my pocket for my typical day to day shopping. Dosh is a must-have app for any shoppers who use credit cards.
If you want more savings for online shopping, check out these legit money-saving apps that you can double dip cashback together with Dosh app.